hello willow bean studio readers!
my name is ashley from
whimsy bits
and i'm miss jennie's handmade gift exchange partner.
if you're not sure what that is head on over to craftaholics anonymous and check it out!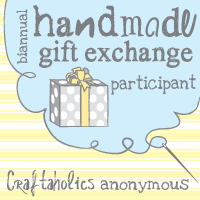 this is my first year participating and i couldn't be more thrilled to be part of this awesome exchange or have such a sweet partner!
i wanted to give a big thanks to jennie for allowing me to be here today. she's just great!
let me tell you a little about myself. i am a twenty something forever student, craft nut, nanny, fur mommy. i am working on getting my master's in education while nannying for two of the sweetest little girls (full time!). i'm a born texan living in kentucky with my boyfriend (we're college sweethearts!) and our hyperactive but super cuddly three year old yellow lab, dallas.
me and the boy. i call him monkey.
dallas on his birthday. i call him muffin.
when i'm not on the playground or walking the dog, i try to live healthy, make super cute and easy crafts and i just started to sew!
my cupcake stand redo and super yummy strawberry splenda cupcakes.
easy peasy feather earrings.
i also have an etsy shop whimsy bits by ash.
i'd love for you to come by and check out my blog or my shop anytime. i love new friends!
i can't wait to get my gifts sent to jennie and hopefully be able to show y'all what we've each made.
thanks again for having m
e today!
--
Ashley Peavler
whimsy bits
Whimsy Bits by ash